The holidays are coming—is your home ready? Before the holiday season hits in full swing, you may want to take some time to do a little work to ensure your home is ready. From ensuring you have enough storage to planning for your holiday decorating, here are some tips to help you thrive at home during the holidays.
1. Anticipate Guests
First, make sure you have a plan for your holiday guests. Where will they sleep? Where will they store their stuff? Where will they sit for meals? Depending on how long they stay, it may be time to spruce up that guest bedroom or prepare your basement as temporary sleeping quarters.
By planning now, you can welcome guests graciously, rather than face the embarrassment of having to fumble to find a place for everyone.
2. Plan for Holiday Decor
Do you go big with your holiday decor? Whether you're planning a brilliant outdoor display or want to have the tallest tree possible in your living room, some holiday decor needs a little housework done first.
From upgrading electrical panels to ensuring you are mounting decor properly, take some time to plan the layout now before the holidays hit in full force.
3. Upgrade Bathrooms
Not only may you have overnight guests, but hosting parties and gatherings means you could have a lot of people in and out of your house throughout the holiday season. Having an out-of-date bathroom or one that can't keep up is not what you want your houseguests to remember.
Whether it's upgrading fixtures or a complete remodel, making sure your bathroom is holiday-ready is a must.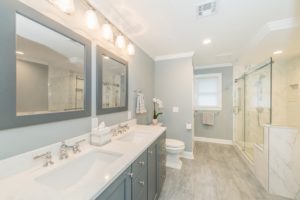 4. Check the Smoke Detectors
Make sure you give your smoke detectors a check before you start decorating. Many holiday decor items add a fire risk, and you want to know that your family is safe before you start burning extra candles or lighting holiday lights on the tree.
Test or replace the batteries, and make sure you have a smoke and CO detector near all sleeping areas, including guest rooms.
5. Add That Addition
Have you been planning for an addition to your home? The holidays are a good time to finally move forward with that project. Your visiting friends and family will thank you when they can take advantage of the added space, and you will enjoy having yet another area to decorate for all of the festivities.
Get Started on Your Home Improvement Project
Whether you need an upgrade in your kitchen, an entirely new space added to your home, or anything in between, JMC Home Improvement Specialists is the team you can count on. Since 1977 we have been helping homeowners in New Jersey bring their home design visions to life.
Contact us online or call us today at (973) 386-0707 to get started on your home improvement project.