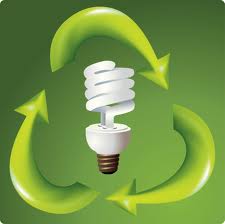 Home appliances

Turn the refrigerator down. Fridges make up approximately 20 percent of your total electricity bill. Once you have already detected the energy saving switch on the machine, turn it on. And don't forget to pay attention to the doors' gaskets, ensuring they're sealed tightly.
When turning on the washing machine, opt for the cold water setting. Use washing detergents that can get rid of stains even on lower temperatures. Going from hot to cold and staying that way, by washing two loads per week, you save about 500 pounds worth of carbon dioxide/CO2 a year (if using an electric water heater). You'll save 150 pounds of CO2 if you're using a water heater that runs on gas.
Run the dishwasher only whenever it is fully loaded. Otherwise, you waste both energy and water for washing just a few of dishes. Check for an energy saving switch on the dishwasher, and if there is one, turn it on. This will allow the dishes to dry naturally, instead of using heat for doing so.
Turn down the water heater thermostat. Its usual setting is 140 degrees F. However, you can do just as well with 120 degrees F. By reducing even as little as 10 degrees, you will save up to 600 pounds of CO2 each year.
If your budget allows, buy new, replace old appliances with new energy-efficient ones. Yes, that means additional expenses, but it's a smart investment, as these appliances typically pay off in the long run. Their lower energy consumption will also reduce your electricity bill.
Home heating and cooling
Try not to cool or heat your home too much. Maintain a temperature that will make it comfortable for you to be in the house. For example, during the winter, set it to 70 degrees F for the day whereas at night, keep it at 60. As for the summer, a constant temperature of 75 is just fine.
Clean the filters regularly and replace them whenever necessary. You will waste plenty more energy if both hot-air furnaces and air conditioners have to draw air through dirty air filters.
Small investments that pay off
Put power savings light bulbs in place of your regular ones. Normal light bulbs consume four times more energy than energy-efficient ones.
Installing low-flow shower heads is also a smart investment. They reduce hot water usage and cost about $20. They'll also save 300 pounds of carbon dioxide each year if you are on an electric heater.
Weatherize your house/apartment. Put insulation and use weather stripping and caulk in order to fill leaks in your walls. That is one way to stop cold drafts from entering your home.Home Improvements
You can do a little modernizing of your windows so that you could reduce the money you pay for your power bill. Put double-glazed, argon-filled windows in place of your old, ordinary ones.
Plant a few trees to act as shades to your house. Your house's color also matters. Dark colors attract sunlight, so if you live somewhere cold, paint your house in a relevant color. Similarly, if you are in a warm area, paint it a light color. The proper color together with shade trees will help reduce energy consumption and save up to 2.4 tons of C02 emission per year.
Photo credit: sciencenavigators.org
BIO
Heather Roberts is a content writer from London, UK. She has great flair for decoration and interior design. She is searching for new challenges and hence often moves to different places. Therefore her present article is focused on the best energy savings tips for your new home: If you need more useful and valuable tips for your removal you can contact: removalcompanylondon.com