A spacious master suite not only increases the value of your home but also, and more importantly, your quality of life. To create a master suite in the space you have sometimes requires creativity and problem-solving. When it comes to designing your master suite remodel, knowing the possibilities for enhancing your space will make for a result worthy of an award. This makes hiring the right contractor and design team for the job one of the most impactful decisions you'll make when you decide to remodel your home.
Sometimes, however, to get the most bang for your buck, you have to get a bit creative with your bathroom remodel in Northern New Jersey. It's important to explore various options besides simply upgrading your existing bathroom if you want to find the right comprehensive solution for your entire master suite and upgrade your home for the next stage of your life.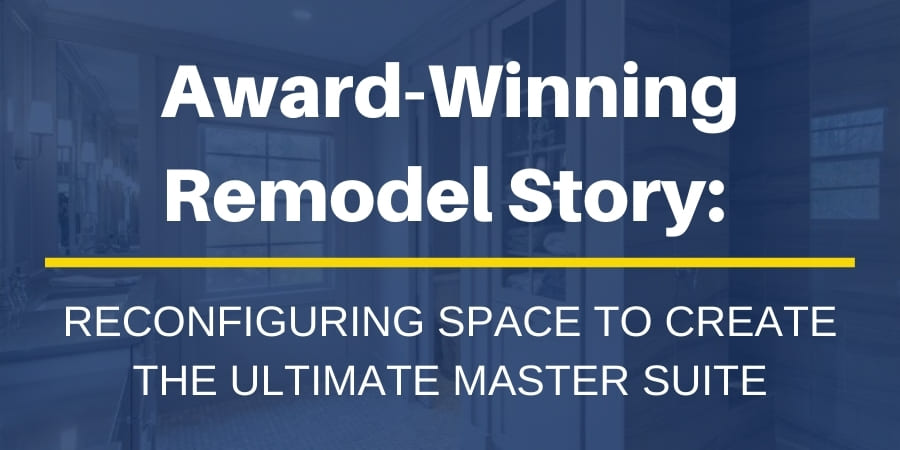 The Award-Worthy Results
The Northern New Jersey homeowners of this 2017 master suite remodel needed a larger and better-functioning space. When our designers looked at not only the master bedroom but also the surrounding rooms, they decided that taking over some of the square footage from the adjacent rooms would give the homeowners the suite of their dreams. The end result is a master suite that not only includes a beautiful new elegant bath, but also two large walk-in closets and a laundry room located right off the master's hall.
Previously, the master only had two reach-in closets and a much smaller bathroom. The square footage came from an existing guest bedroom and using the existing bathroom to create a walk-in closet and laundry room. The expansion allowed for ample counter space with lots of storage, two sinks, and vanity with seating. Also, the commode was placed behind a pocket door for extra privacy.

Floor Plan BEFORE Remodel
Floor Plan AFTER Remodel
To accomplish this transformation, our team at JMC borrowed space from an existing guest bedroom to create the new en suite and expansive walk-in closet. We then reconstructed the existing bathroom into another walk-in closet and laundry room. Previously, the master only had two reach-in closets and a much smaller bathroom. We also created a private toilet room that would allow more than one person to be using the space at a time and a his and her vanity with drawer storage and a built-in makeup area.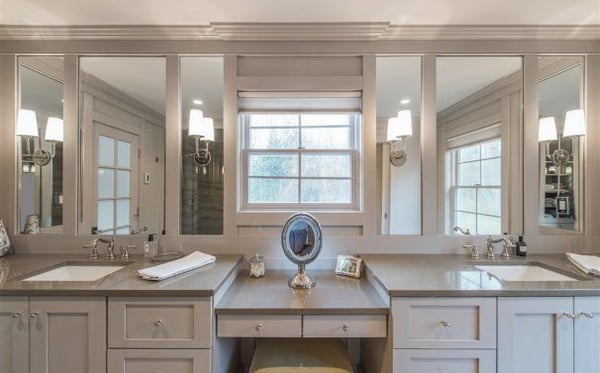 The new bathroom featured an elegant spa-like atmosphere, complete with a calm taupe and cream color palette, overhead recessed lighting, decorative sconces at the vanities, and two windows and a glass panel French door that augmented the flow of natural light. In the floor-to-ceiling built-in shower, stone shelves were installed to accommodate bathing toiletries and the homeowners could enjoy a combination of the fixed shower head, handheld sprayer, and body sprayers. Radiant flooring was installed beneath the tile flooring to bring more warmth to the space. Finally, we added a built-in linen closet with glass doors and a hidden pullout hamper.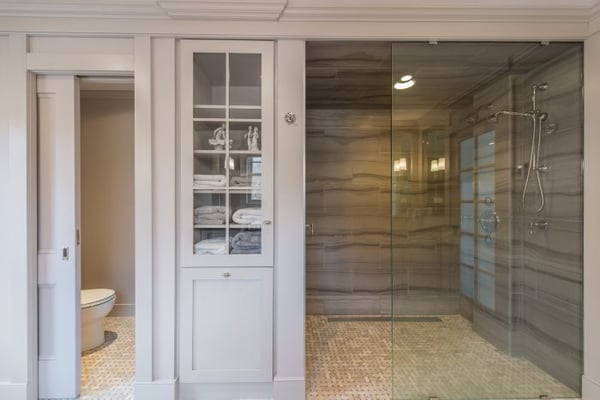 This master bedroom and bath remodel won the 2017 North East Regional Contractor of the Year Award (Coty) in the Residential Bath category for the National Association of Remodeling's (NARI) Contractor of the Year competition. The project also won the Grand Coty from NARI's Northern New Jersey Chapter. More importantly, the new configuration was a better fit for the homeowner and transformed their space into something far better than they expected with the added benefit of two new walk-in closets and a laundry room.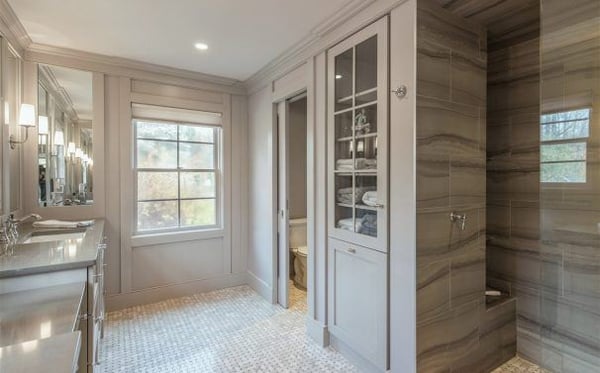 Master Bedroom Bathroom Remodeling Ideas
Whether you're planning a master suite addition, renovating an existing space to become your luxury master bedroom and bathroom, or even creating an in-law space for a family member, the goal is to personalize the space so it looks and functions the way you need and want. Below are some master suite remodeling ideas to consider for your project.
1. Two Walk-in Closets
Most master bedrooms are shared by two partners, so why not design the space to have two closets? Having two walk-in closets ensures both partners have privacy and an area to store and organize their clothes and personal effects the way they see fit. The master bathroom should also include a closet or linen closet to store towels, cleaning products, and other bathroom necessities within reach.
2. A Cozy Fireplace
A fireplace in your master suite adds a cozy aesthetic to your space as well as provides practical purpose due to those frosty New Jersey winters. You can select a fireplace option that complements your overall bathroom style, whether it's traditional, modern, transitional, or spa style. Even a simple gas stove adds a nice touch and makes your luxury bathroom cozier.
3. Master Bedroom with Two Bathrooms
There is no shortage of master suite floor plan layout options. Over the past decade, designing a master bedroom with two separate bathrooms has become an increasingly popular remodeling trend for luxury homes. Not only does this option give you and your partner more privacy, but you can also include the features you'd like the most and style your bathroom to your personal tastes.
4. Add a Sitting Area
Another convenient but often overlooked component for a master suite is a sitting area. Whether it be a window seat, a plush loveseat, or a small table and chairs by the fireplace, the inclusion of sitting in your master suite means you'll have a place to relax and reflect, read a book and sip tea, or even enjoy a cocktail together at the end of the day. A sitting area completes the luxurious and sophisticated appeal of a master suite while making the space more dynamic.
5. Create an Additional Laundry Area
Homeowners are rethinking having the only laundry area located in a remote part of the house or on a different story than the master suite. Having a washer and dryer closet in your bathroom, or otherwise adjacent to your master suite, is incredibly convenient. Laundering your clothes near your closet and bathroom makes for plenty of logistical benefits.
Remodeling Your New Jersey Bathroom: Next Steps
When it comes to the floorplan, materials, and features of your master suite, the options are nearly limitless. However, there's also a chance that some creative problem-solving could help your bathroom renovation exceed your expectations. Having a few ideas and a checklist of design must-haves is important to bring to your meeting with potential contractors.
Our team at JMC can help you think outside the box in terms of optimizing the space you have available and creating the ideal master suite to satisfy the tastes of you and your partner.