Sometimes it takes some creative thinking to get the best results. In the case of this remodel story, our clients wanted a larger and better functioning en suite. When our designers looked at master bedroom and the surrounding rooms, they felt that reconfiguring those spaces would be a better solution than simply remodeling the existing bathroom. This plan resulted in a master suite that not only included a beautiful new elegant bath, but also two large walk-in closets and a laundry room located right off the master's hall.
JMC was excited to learn that this project won a 2017 Regional Grand Coty from the in the Residential Bath category in the National Association of Remodeling's (NARI) Contractor of the Year competition. The project also won the Grand Coty from NARI's Northern New Jersey Chapter. Read more of this remodeling story below, which includes floor plans and photos to help you visualize the changes.
Let's start with the floor plans.
BEFORE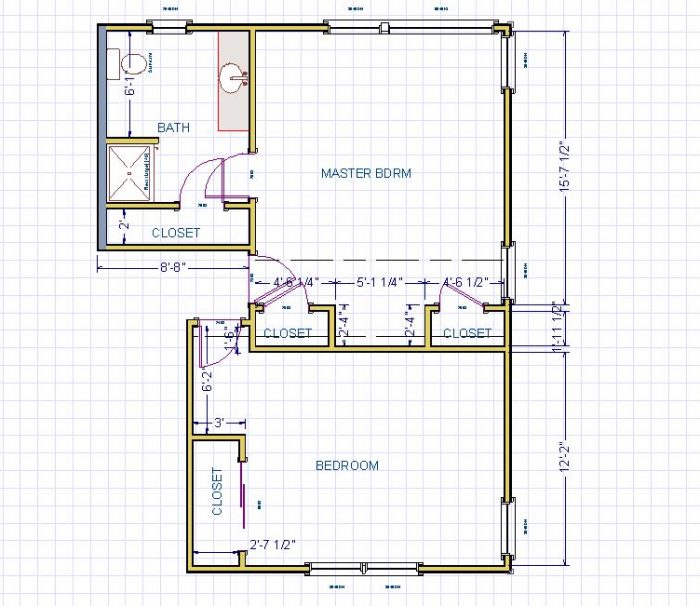 AFTER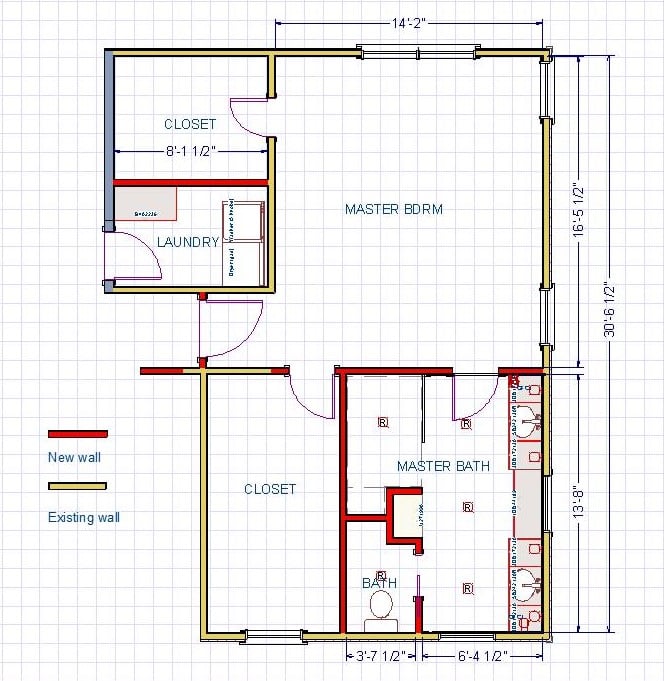 Here, you can see how our designer used the space from an existing guest bedroom to create the new en suite and expansive walk-in closet and then transformed the existing bathroom into another walk-in closet and laundry room. Previously, the master had two reach-in closets and a much smaller bathroom.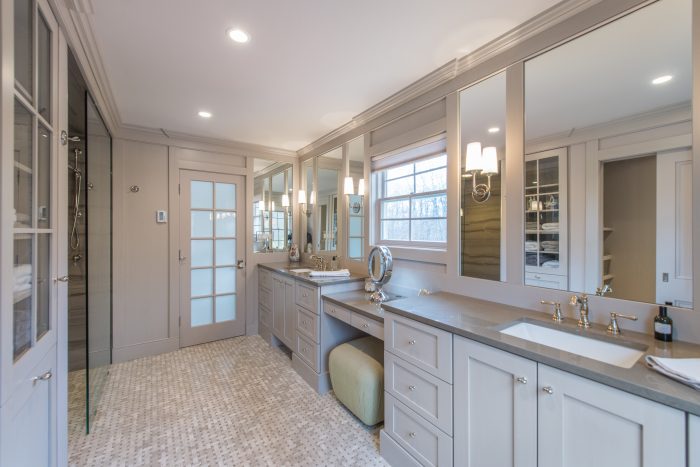 The new bathroom has a lovely gray and cream color palette, creating an elegant spa-like atmosphere. The space includes overhead lighting recessed lighting, task lighting at the vanities through decorative sconces, and natural light flows through two windows and a glass panel French door.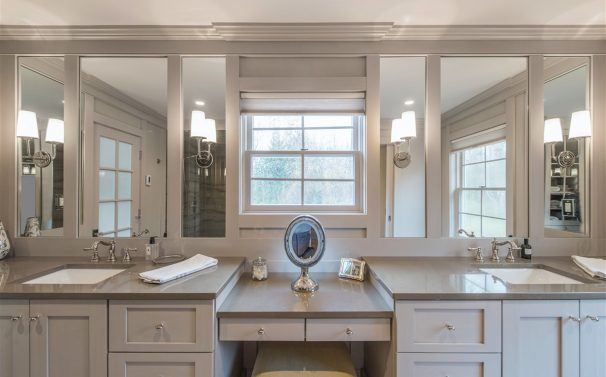 A his and her vanity includes drawer storage as well as a built-in make up area. Special touches such as a hidden outlet inside a drawer keeps the hair dryer tucked out of sight.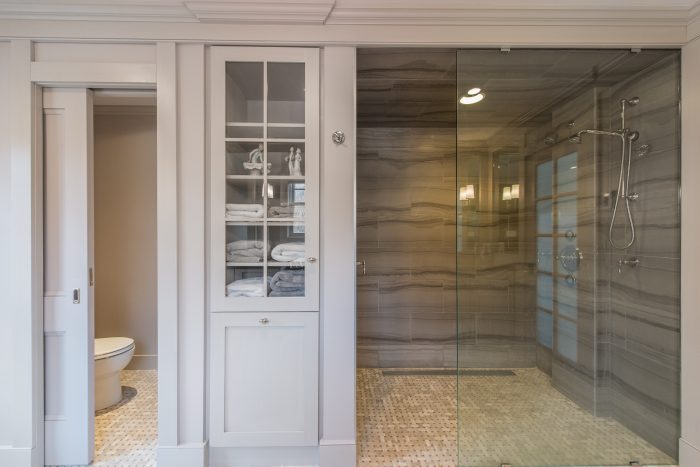 A private toilet room allows more than one person to use the bathroom a time. A built-in linen closet with glass doors also includes a hidden pullout hamper.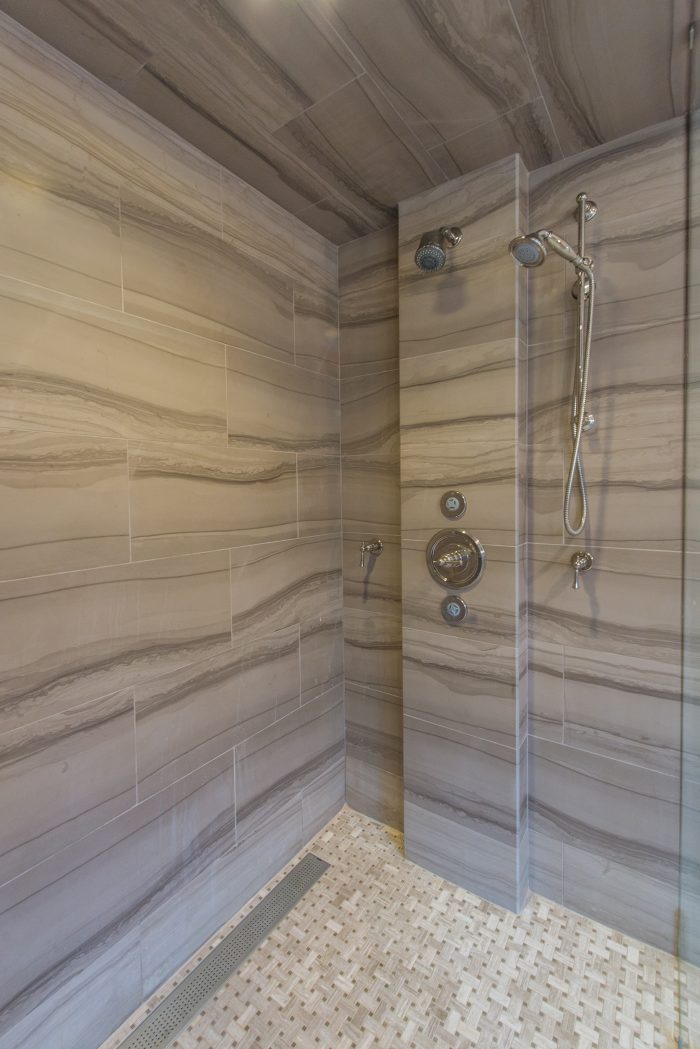 The curbless shower features 12×24 stone tiling and a basket weave floor. Homeowners can enjoy a spa-like experience by using a combination of the fixed showerhead, handheld sprayer and body sprayers.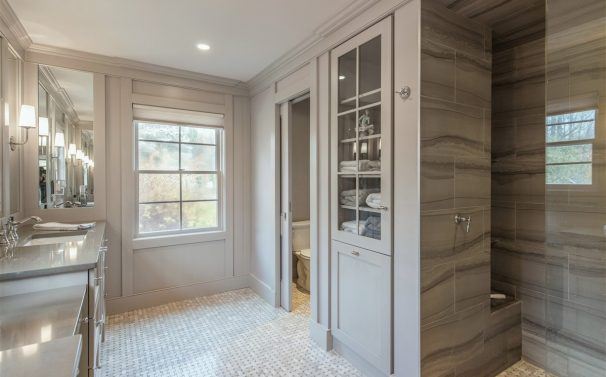 In the shower, a floor to ceiling built-in with stone shelves accommodates bathing toiletries, yet keeps them out of view from the rest of the bathroom. To bring more warmth to the space, radiant flooring is installed beneath the tile flooring.
This new configuration works much better for the homeowner and now, the homeowners have the en suite of their dreams with the added benefit of two new walk-in closets and laundry room.
If you enjoyed reading this story, you may also like JMC Wins Contractor of the Year Award for Open Concept, Cape Cod Style Kitchen.