If you've been in your home for several years, especially if your family has grown since you moved in, you're likely starting to feel like you could use a bit more space. You may want to enlarge your kitchen, add another bathroom, or even create a second level. Increasing the size of your New Jersey home is a great alternative to moving altogether, especially if you and your family really love the surrounding community.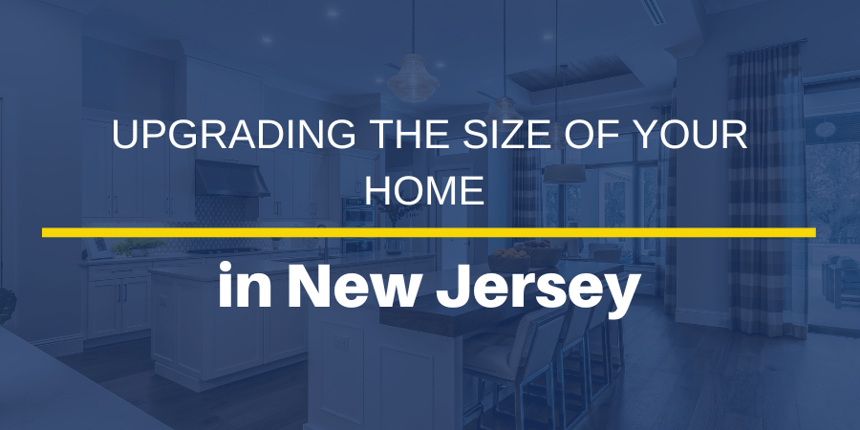 How Can I Increase the Size of my House?
First, you'll need to consider what space or spaces you'd like to add. Will it be an additional family room? Are you interested in converting your traditional floor plan to an open floor plan while adding square footage? Maybe you're interested in adding a primary suite. Perhaps you'd like to have your whole home remodeled to add space and update the existing spaces.
Next, consider whether you'd like your addition to be a build-up or a bump-out, which affects your final cost. Your cost will also vary depending on the finishes you choose. Let's address each of these options, starting with deciding where you could add square footage to your New Jersey home.
How to Decide Where to Add Onto Your Home
Figuring out where to add to your home starts with asking where in your home do you feel most falls short of your family's needs. Some common places that cause frustration are the kitchen, too few bathrooms and/or bedrooms, or not enough space to entertain friends and family. Then there's the question of whether you build up and create another story, or bump out. Let's discuss the most common home addition ideas that homeowners in New Jersey choose when upgrading the size of their homes.
Kitchen Expansion and Open Floor Plan
Open floor plans have remained popular for years, and for good reason. They encourage a feeling of connection, an open floor plan allows you to keep an eye on what's going on in other spaces, and it creates a great space that's perfect for entertaining.
A major kitchen remodel that expands the space and removes walls to create an open floor plan is a big undertaking but very worth it in the long run. Your kitchen addition could include a large island or double island, plenty of storage, and even incorporate an adjacent laundry room and mud room. Major kitchen remodels of this size could reach about $140K and beyond, depending on the amount of space you'd like to add, the finishes you choose, and the age of your home.
Bathroom Addition
There never seem to be enough bathrooms in a home, which is why this is one of the most popular home additions. Add a half bathroom off of the living room, a Jack and Jill bathroom accessible to two adjoining bedrooms, or a full bath in the hallway. A bathroom remodel can be accomplished by taking space from another room, but to not sacrifice space, talk to your designer about placing the bathroom addition in a space where you can create a bump-out addition. Adding a bathroom can start around $33K for a half bath, but reach or exceed $85K for something larger with high-end finishes.
Primary Suite Addition
If your bedroom lacks a completely private bathroom or a spacious walk-in closet, this is a great opportunity to add space that also serves as a quiet respite from the rest of the home. A primary suite with these spaces, as well as a sitting area and a private entrance hall gives you the space to unwind from the day or be ready for the day in peace. Your current room is also likely on an exterior wall, making a bump-out addition an easy option. You can expect a primary suite addition to start at about $140K and reach or exceed $280K.
Over Garage Addition
Adding a living space above your garage is a great way to increase your square footage and create a private space for an office, gym, or guests. The benefit of this addition is that the footprint on your property is already occupied, so you won't decrease the size of your yard by expanding into it. It's also less expensive than having to extend your foundation. You will, however, have to consider running plumbing, electricity, and ventilation to the space. Expect an over-garage addition to start at $100K+.
Finished Basement
If you're still using your unfinished basement only for storage, you might want to consider using the square footage you already have to become a habitable space. Your basement has the potential to become a recreational space, a guest suite, or a private space for your teen. A basement could be the answer to much-needed square footage to provide room to breathe for the whole family. Because finishing a basement requires everything from insulated walls, flooring, electricity, plumbing, and more, expect this cost to begin around $75K and well beyond, depending on its function, the finishes, and size.
Porch Addition
If your home only needs a little more wiggle room, look to the outdoors. Adding a large screened-in porch off of the main living area can make your home feel more roomy, even without expanding your exterior walls. Or, if you'd like to use your porch year round, a three- or four-season porch is just the thing to add more leisure space while being able to enjoy the outdoors in a comfortable environment.
The function and how weather-ready your porch will be is going to be the main factor when it comes to cost. A porch with an adjoining patio for an outdoor kitchen, a screened-in porch with a fireplace and room for dining, or a four-season porch with radiant in-floor heating, will all have very different costs in the end. Talk to your designer and custom home builder about your options and the best option for your family that can be achieved within your budget.
Bump Out vs. Build Up
Your addition can be a bump out or a build-up. In other words, you'll decide whether you want to extend your house horizontally or vertically. Your budget, property size, local ordinances, and homeowner's association rules may be the deciding factor in deciding to build up or bump out.
Some rooms just make sense as a bump out, like a kitchen addition or primary suite. Other additions are more flexible and could be a prime candidate for a build-up addition, like an extra bedroom with a full bath down the hall, spare recreation space or home office, or guest space. Talk to your designer or custom home builder for guidance on what type of addition would make the most sense for your home.
Ask a Professional Design-Build Team About the Best Home Addition for You
After considering all of your options, you may still be left with questions and concerns. Reach out to a professional design-build firm to talk more about what makes the most sense for not only your home but in your specific neighborhood.
JMC Home Improvement Specialists is a home remodeler in New Jersey that knows its way around custom home additions. Deciding where to add to your home is a big decision and you'll want to get advice from the most experienced team. Contact JMC Home Improvement Specialists to talk about your options today.