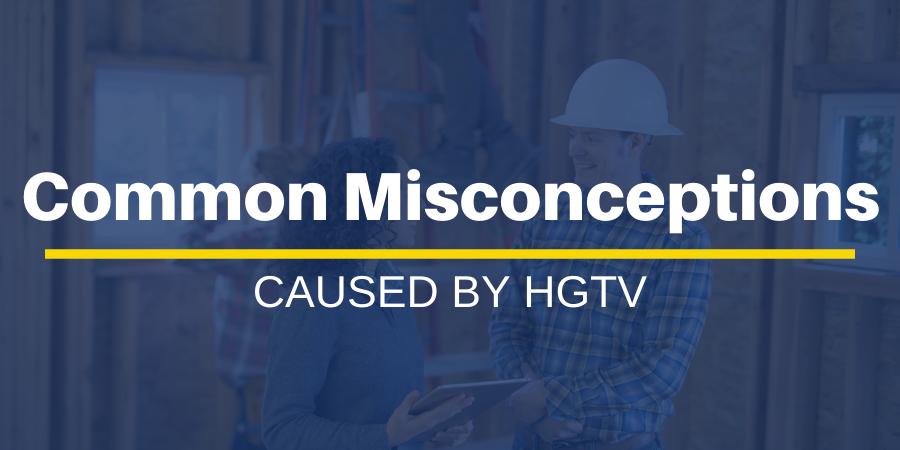 Turning on the home improvement network to watch your favorite shows is a great way to relax. The HGTV real estate genre shows can give you ideas for your own home. There's a hidden side to each one, and you should know what it is before you give anyone too much credibility. It's time for a renovation reality.
Common HGTV Remodeling Misconceptions
HGTV shows sometimes seem believable, and sometimes not. Ask an expert and you'll find out it's more often not. If you're ready for the dark side of home renovation shows, here it is.
Remodeling Is a Weekend Project
When you watch a home transformed in the space of a 30-minute show, it's hard to imagine how the project itself could take months. It does, even for just one bathroom. The design process takes time to refine, and you don't want to rush it. You should budget at least three months for small projects, and up to 9 months or a year for multi-room remodeling. If you're worried about how long the project will take, put it on your questions to ask during a home design meeting.
Anyone Can Do It
Accessibility is a major part of this genre's success. It feels like something that you could do if you just had the right tools, materials, and a free weekend. You'd like to think that the shows hire experienced professionals for each project, but you may be surprised by how inconsistent that is. You'll occasionally read about lawsuits against a show's producers because they failed to hire a qualified professional to do the work, which resulted in damage to the house. DIY remodeling is one of our bathroom remodeling pitfalls, and you should avoid it. Hiring professionals for every stage can cost more, but it is well worth the investment.
You Can Remodel for Cheap
It's amazing how many changes you can see on the show for such a small amount of money. These shows can make you think remodeling is cheap because they don't include elements of the project that are significant, like temporary housing, furnishings, or decorations. They also imply that you'll always have access to the best deals, which depend on the time of year and the materials you choose. A low budget is a bathroom remodeling mistake, and you can steer clear of it by doing your research in advance. Be honest about your budget in advance, but do your best to be realistic about it, too.
What You See Is What You'll Get
Each show you watch is carefully curated and edited to provide entertaining programming. You should keep in mind that viewership is the goal, more than good craftsmanship or satisfied clients. As such, you may not see a lot of things that go on behind the scenes, like a delay in delivery of materials, or the need to repair an unexpected problem. While you watch the show and delight over the home remodeling trends, remember that the actual process with a professional you hired is more complicated, and designed to give you a better result.
Which HGTV Shows Are Fake?
The authenticity of many shows on HGTV is a matter of opinion for experts, viewers, and critics alike. There are a few programs that get a lot of criticism for unrealistic budgets, unbelievable participants, and unlikely outcomes:
House Hunters
Love It or List It
Property Brothers
In some cases, the shows are crafted to show a particular result, while giving the impression that choice is involved. For others, discrepancies in the details paint a picture of lots going on behind the scenes.
Is HGTV Home Town Staged?
Many people claim that the HGTV show "Home Town" is legitimate, but others say that it is simply more honest than it is not. In cases like this one, it's important to keep in mind that what you see on a TV show is not always what you get in a finished product.
Do the Clients on HGTV Get to Keep the Furniture?
Some clients get to keep the furniture, but others do not. It depends on the show. In most cases, clients can choose to purchase the furniture for an additional fee. Furniture may seem like an afterthought, but furnishing an entire house can cost $50,000 to $100,000 or more, on top of the remodeling budget.
Who Pays for Renovations on HGTV?
Looking for TV shows that remodel homes for free? In almost all cases, clients on HGTV shows pay for the renovations. Some shows require a budget of $150,000 or more. In addition, there are a host of other costs that clients are expected to shoulder, like temporary living arrangements during remodeling. There are multiple factors to consider when choosing this type of renovation!
Renovation reality shows are fun to watch, but are they real? Not so much. For an expert design-build company that will give you a great result on your project, schedule a consultation with JMC Home Improvement Specialists.