If you've been looking at pictures to get inspiration for this years' home remodeling trends for your upcoming kitchen remodel in Morris County, New Jersey you may have come across some countertops that look like the perfect fit for your project.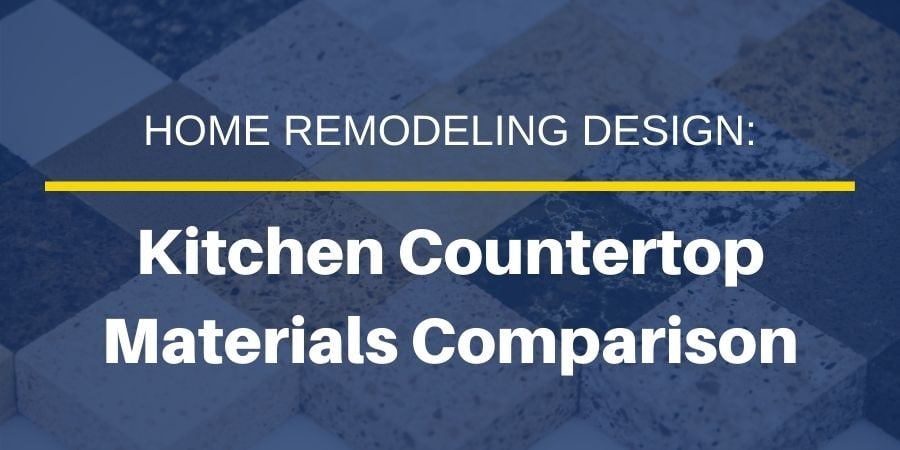 However, your kitchen counters are more than a decorative element for your space. They serve a practical purpose and get used on a daily basis. When making your selection, you want to make sure you pick a countertop material that's up to the task, while also matching your design aesthetic and fitting into your renovation budget.
What Material Is the Best for Kitchen Countertops?
There are numerous options for kitchen countertops when you are updating your space. Each one has its pros and cons, which makes the decision a bit more complicated. Choosing the best material for your countertops depends on the style of your space, how it gets used and by whom. For example, the material you might choose for an upscale kitchen in New Jersey that is used frequently for entertainment is different from what you may want for a well-used family kitchen that needs to be highly functional.
To help you get started, here is a brief countertop materials comparison based on a few key characteristics:
1. Natural Stone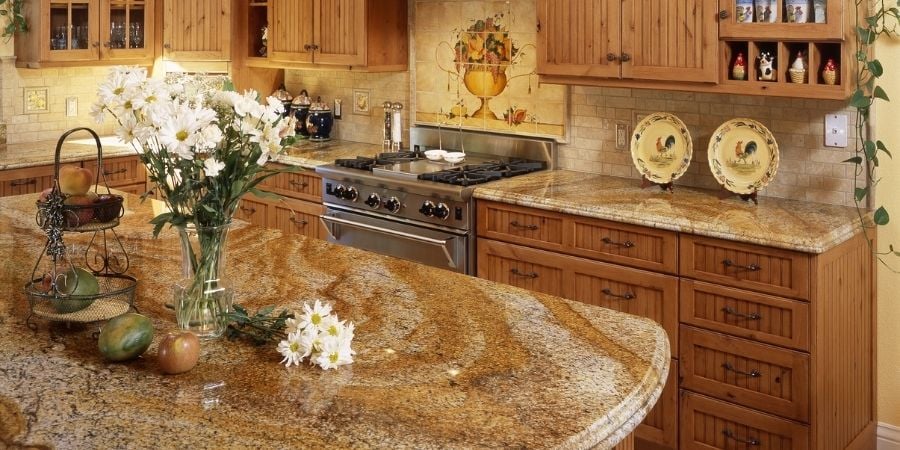 Luscious and luxurious, natural stone has become more commonplace in the modern kitchen, although it's still viewed as a high-end option. A few types of natural stone countertops include granite, marble, soapstone, quartzite and slate. Granite, which comes in a wide array of colors, is the most popular. It is very durable and heat-resistant, with few visible seams. Marble is a close second, thanks to its classic appeal and striking vein patterns.
One issue with natural stone is that it's relatively high-maintenance and must be sealed periodically. Marble also can be nicked and scratched easily, and soapstone and slate only come in a few shades.
2. Engineered Stone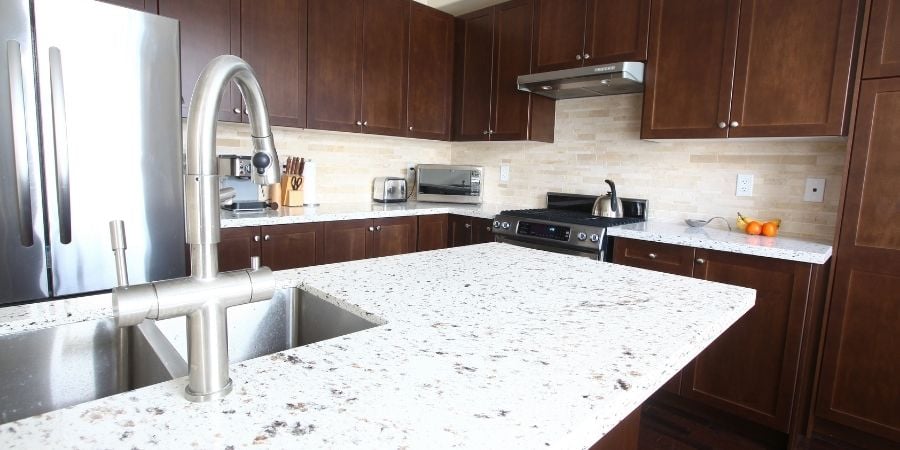 Quartz is an appealing kitchen countertop material because it resembles natural stone, but it is actually an engineered material that consists of quartz particles, resins and pigments. It has more clarity and radiance than other solid-surface countertops but is more durable and easier to maintain than natural stone. It doesn't need to be sealed to preserve its longevity and appearance. Quartz holds up well against liquids, hot pots, and sharp knives—all of which are prevalent in a functioning family kitchen.
In terms of cost, engineered stone is generally considered a midrange material, pricing in a bit lower than natural stone. Because it's a manufactured product, quartz comes in a wide range of colors, making it easy to find one that complements your kitchen design style.
3. Butcher Block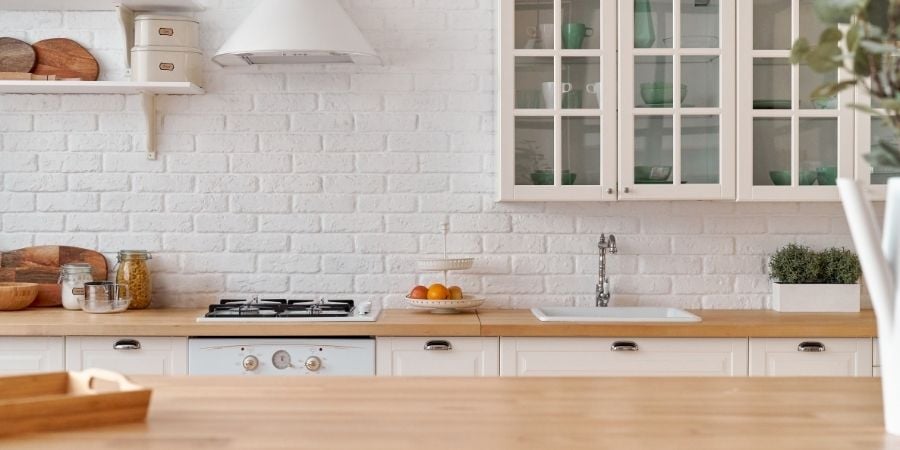 Wood countertops are also versatile in terms of style. You can incorporate them into a transitional, farmhouse, rustic or Old-World aesthetic. Typically, they are constructed from maple, walnut, teak, cherry, birch or oak that gets installed in one of three ways: wide plank, edge grain or end grain. End grain countertops—better known as butcher block counters—tend to be about 4 to 12 inches thick, and they make an ideal work surface. The wood has natural antibacterial properties, so it's safe to prep food directly on the counter.
However, the wood will also accumulate nicks and scratches over time. You have to carefully maintain the material to keep its beauty and to prevent warping and cracking.
4. Concrete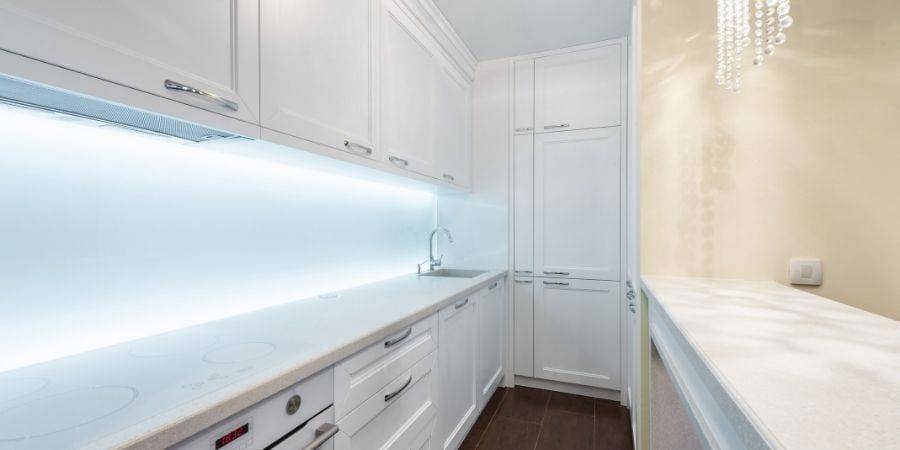 Concrete counters aren't as visually versatile as those made from other materials—they tend to give your New Jersey kitchen a distinctly unique yet sophisticated industrial appearance—but they can be customized to your exact specifications. Typically, you will start with pre-cast counters that are fabricated off site. Once you're ready to install them, they are brought to your home fully cured and sealed.
Another option is to cast the concrete countertop in place so it has a unique, hand-crafted quality. You also can add a colorful tint or use decorative textures with your concrete. Plus, it's heat- and scratch-resistant.
5. Plastic Laminate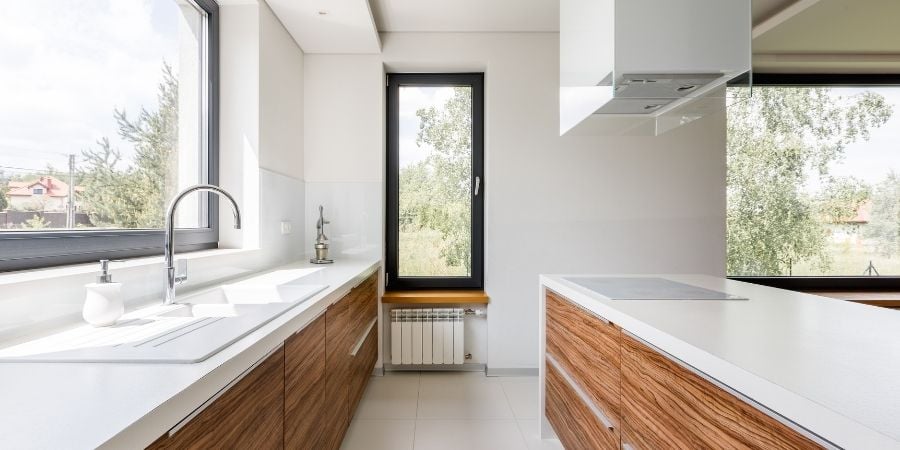 Laminate countertops are often considered a budget option for a kitchen remodel in Morris County. You may be more familiar with the material's brand name: Formica. It is made by placing laminate sheets on a particleboard (MDF) core. While it doesn't have the elegant quality of stone, wood or concrete, it is durable and can withstand years of frequent use by household members of all ages. In terms of style, you can find plastic laminate in numerous colors and patterns, and it can be custom-fabricated based on your particular needs.
On the downside, laminate countertops don't add a lot of value to your kitchen and if they get scratched or chipped, they're nearly impossible to repair.
6. Ceramic Tile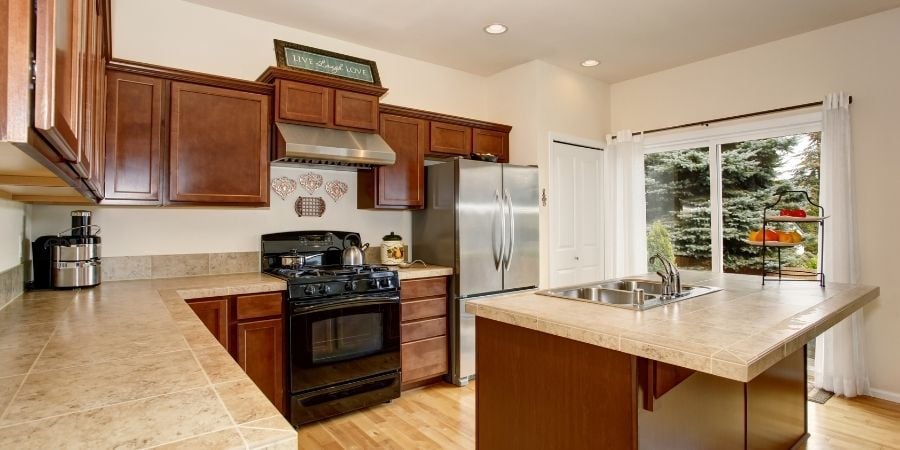 Tile countertops aren't as common as they used to be, but it's still an option worth considering based on your kitchen style. As a material, tile is relatively affordable—about $30 to $50 per square foot for counters—and there are nearly endless color, shape and style choices. As a general practice, your remodeler will install the tiles to a plywood substrate, or even on top of an existing wood or laminate countertop.
It's important to keep in mind, heat won't negatively impact the tiles, but they can crack under impact. Additionally, the grout lines are porous, which makes them susceptible to staining and challenging to clean.
7. Solid-Surface Counters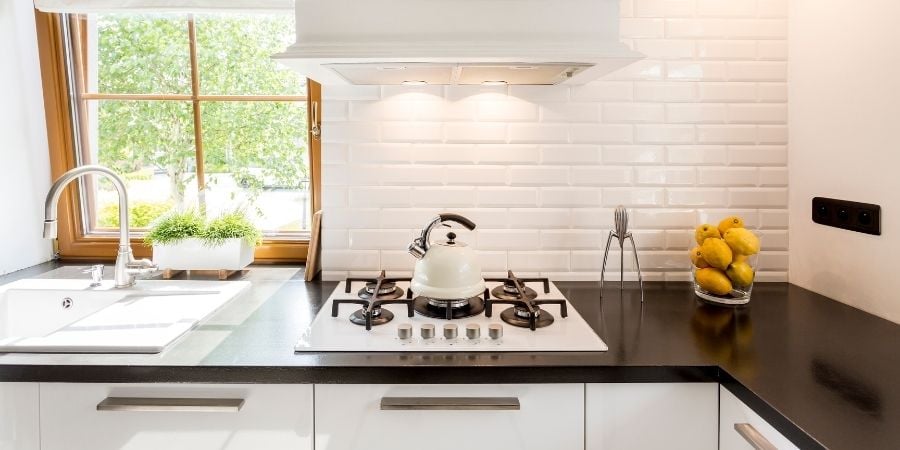 For a mid-range kitchen remodel in New Jersey, you may also want to consider a solid-surface material, such as Swanstone, Corian or Avonite. Solid-surface countertops are fused together in a way that you can't see the seams or joints, which creates a distinctly cohesive look over an expansive surface. You can even integrate your sink directly into the countertop. There also are plenty of color options to complement various kitchen styles.
Solid-surface materials don't make for heat-resistant countertops, but they are stain- and scratch-resistant and easy to repair by sanding out the damage.
Designing Your New Jersey Kitchen Renovation
Installing new countertops is an effective way to spruce up your kitchen, or even create a different atmosphere, and add to the performance and lifespan of the space. The challenge is picking out a material that fits your lifestyle needs and remodeling budget and complements your other design choices. Whether you're completely making over your kitchen in Morris County or giving it a simple refresh, our team at JMC Home Improvement Specialists pays attention to each and every detail. As part of our design-build remodeling process, we will help you navigate the selection process and explore the pros and cons of each option available to you.