From start to finish, there are things you can do to ensure your home remodel is successful and as stress-free as possible. By being prepared, diligent, understanding, and communicative, your project can go from concept to move-in day without experiencing the hardships you might hear about from other homeowners. How do you manage a remodeling project to ensure its success and your happiness with the results? Here are our top 11 tips to pull it off.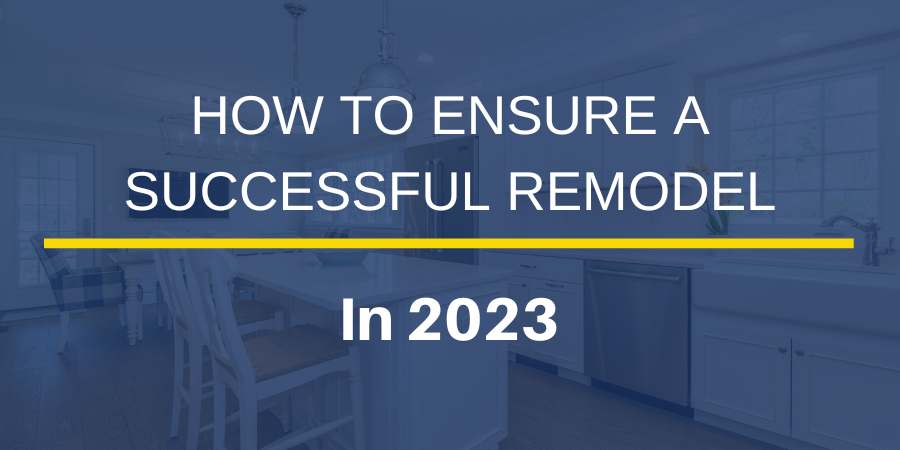 1. Assess Your Home's Challenges
Knowing you need a remodel and knowing exactly why are different things. Take time to walk through your home and note the areas that need attention or adjusting. How's the layout of your kitchen? Does it create a bottleneck anywhere? What about the placement of your guest bathroom? Does your home lose heat easily? Are there cracked tiles, scratched flooring, or just otherwise dated finishes anywhere?
Figure out where the problem areas are in your home and that will help you organize your remodeling priorities. You don't necessarily have to figure out a solution quite yet. Your design team will help you problem-solve, but they'll need to know what the problems are.
2. Know Your End Goal
In addition to identifying your home's challenges, think about what you'd like to achieve in the end. Even starting with a general idea is good. More space in certain areas, opening your floor plan, a primary suite that promotes relaxation and calm? By providing your designer with challenges and goals, they will be able to connect the dots along the way.
3. Set a Home Renovation Budget
This may seem like an obvious tip, but many homeowners often forget to include some periphery items to their budget, like alternative living arrangements, a budget allowance, permitting costs, post-remodel cleaning costs, and furnishings. Your remodeling team can help to properly plan for these items and some might be automatically built in, you'll just want to ask to be certain.
4. Look for Inspiration
Researching finishes, fixtures, and amenities is usually the fun part for homeowners planning a remodel. Search online or on apps for design inspiration. Think about everything from flooring to statement ceiling styles. Be sure to save images to an online vision board, in a file on your phone, or in a file folder if you're clipping ideas from home magazines. No detail is too small to include. This helps your designer narrow down options to show you and will help expedite the decision-making process.
5. Be Adventurous
Don't count out indulgences when you're planning your remodel. A steam shower in your main bathroom, smart features, an outdoor lounging and entertainment space, or anything else that seems like a luxury should at least be explored. Most homeowners regret not including these kinds of items in their remodeling plans. It doesn't hurt to at least see how these features can fit into your budget.
6. Communicate Effectively
Whether it's during the consultation or design phase, leave nothing out. Communicating thoroughly and frequently will result in a remodel that you envisioned, or better. You're not bothering your remodeling team by communicating every wish and concern. Finally, be sure that you're addressing any discrepancies with your designer during the design phase. Once the plans are finalized and a detailed budget is created, changes could incur more costs and a delay in construction.
7. Insist on a Detailed Contract
When it's time to sign off on the budget, check every line item. If anything seems vague or there's missing information, ask for an explanation and for it to be included in writing. Your contract will need a start date, a completion date, and details for what's included, like materials, labor, and permits. If you feel like you'll need another pair of eyes to look over your contract to be sure everything is on the up and up, take the time to do that.
8. Be Flexible
Even with the best remodeler and an iron-clad plan, issues can arise. Whether it's an unexpected delay because of the weather, an injury on the site, or a delivery delay, some obstacles can come up and you'll have to be able to be flexible. Ask questions, voice concerns, and be open to alternative solutions to keep your project moving in a productive way. Plenty of projects don't come with issues like these, but it will save you stress and frustration if you're mentally prepared for it if/when something goes awry.
9. Make Arrangements to Temporarily Live Elsewhere During the Remodel
You may only be remodeling your bathroom, kitchen, or living area and feel like you can handle living at home while the project is underway. However, once the traffic in and out of your home, the noise, water, or electricity has to be intermittently turned off, and the mess progresses, your hope of staying in your home will likely erode pretty quickly. If you have small children or work from home, it will become stressful or frustrating. Stay ahead of the stressors and make arrangements to temporarily live elsewhere for a better remodeling experience.
10. Be a Good Boss
Chances are good that you're one of at least a few clients that your remodeling team is creating a new space for, so practice patience and understanding. Your email or phone call might not be returned immediately. Also, trust your remodeler with their experience and knowledge during the process. If you did your homework when researching teams to work with and diligently interviewed your candidates, chances are good that your remodeler will be able to guide you through the process, communicate with transparency, and come up with workable solutions for your home's challenges. Trust is a two-way street and integral to a professional working relationship.
11. Consider Design-Build Contractors
Design-build is a delivery system that is a full-service alternative to hiring multiple professionals, like an architect and builder separately. The process is far more streamlined and efficient. You're working with one entity from start to finish. Your remodeling team already has channels of communication established, designers and carpenters with seamless working relationships, and a single point of contact. The best part is you're not sacrificing on the quality of design and production of necessary design plans, but gaining the benefits of not juggling multiple companies at once.
JMC Home Improvement Specialists is a New Jersey design-build team with an impeccable track record for creating beautiful designs that solve homeowners' most challenging issues with their homes for decades. Contact us to schedule a consultation and we'd be happy to share our knowledge about the home remodeling process and our proven practices.