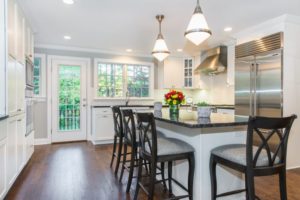 You love your neighborhood and community, but your home could use some updating and remodeling. Does this sound like you? For many homeowners, the big dilemma is deciding when to get started. When will it be most convenient? When will the price be right? How long will it take to find the right remodeler? At JMC Home Improvement Specialists, we speak with people everyday who are asking themselves these questions and trying to decide if now is the best time to invest in their home. As we close out 2016 and look towards a brand new year, now is a very good time to invest in your home and here's why.
Housing prices are higher now than they were during the peak of the housing boom in July 2006. The S&P CoreLogic Case Shiller Index reported in September that prices had increased 5.5% over the previous year. With your home value up, it's the perfect time for upgrades, especially to your kitchen and bathrooms. This is also an opportunity to utilize your home's equity to pay for your renovations.
Another good reason to invest now is to enhance your quality of life. Three of the biggest rewards of completing a remodel are improved functionality, receiving return on your investment and renewed pride in your home. But of the three, nothing can compare to the shear joy you will experience when the frustrations and embarrassments of your pre-remodeled space disappear.
Don't let another month pass you by; get started planning your remodel today. If you've been considering renovating your home, please contact us and speak to our team. We will be happy to answer your questions and discuss your ideas and dreams for making your home the best it can be.