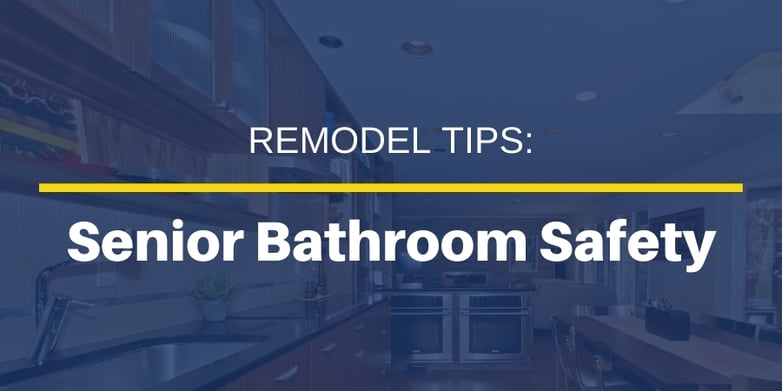 According to United States Census data, by 2030, approximately 20% of the population in this country will consist of people who are 65 years old or older. For the many who want to stay in their own houses as they age, bathroom remodeling is a major consideration. Bathrooms without accommodations geared toward the elderly are unsafe for seniors with physical challenges, as they may not be able to access or use conventional toilets, faucets, showers, and bathtubs.
The following tips can help you create a safer space for yourself or a loved one. Bathroom remodeling contractors can help you put these accommodations in place, all while retaining the room's original style and the owner's preferences.
Tip 1: Put in Lever Faucets
Older adults sometimes struggle with dexterity. Grabbing a regular faucet handle and gripping it to turn is sometimes hard. Thankfully, there are options to make this a little easier.
If you install lever faucets, seniors won't need to fumble with knobs that may be difficult to turn. A wide variety of styles are available, including faucets that operate with a lever seniors can step on to turn the flow of water on and off. You should consult bathroom remodeling contractors or a plumbing service before you try to put in a faucet on your own.
Tip 2: Place a Sprayer Attachment in the Shower
Seniors sometimes need to take seated showers and aiming the showerhead to flow where they need the water is challenging from a seated position. A detachable showerhead can be held in the hand, making it easier for seniors to direct the flow of water.
With this addition, seniors won't need to stand, which can become an issue as they age. Sitting while showering allows seniors to bathe themselves, which is a huge plus for those who understandably resist the idea of being bathed by a family member or home attendant. This small change can make a big difference in terms of independence for a senior.
Tip 3: Use Grab Bars and Rails
The bathroom is a commonplace for slip-and-fall accidents. Grab bars and rails are a way you can lessen this risk. If you are tackling bathroom remodeling in NJ and have a senior in your life, these are a must.
This is one of the least expensive accommodations you can make in remodeling a bathroom for seniors. An elderly person can better use the shower, bathtub, and toilet if grab bars and rails are present, and these items make it easier for a caregiver to help. You might want to have bathroom remodeling contractors install grab bars and rails for extra peace of mind.
Tip 4: Raise the Toilet
Comfort-level toilets are an important part of a senior bathroom remodel. They don't look any different from a traditional toilet but are a bit taller. This makes it easier and safer for a senior to use the restroom independently.
A few inches in a toilet's height can make it much easier for seniors to use. You can put in a thick seat on your current toilet or hire bathroom remodeling contractors to replace your toilet with a higher one.
Tip 5: Use Non-Slip Bath Mats and Rugs
Water and hard flooring create an environment where slipping is common. However, adding a throw rug or bath mat isn't going to fix this problem. Conventional bath mats and rugs put seniors at risk for dangerous falls in the bathroom. Non-slip rugs outside the shower stay in place and help prevent falls. A non-slip mat in the shower similarly prevents falls.
Tip 6: Put in a Curbless Shower or Walk-In Bathtub
The lip of a shower or the side of a bathtub can make it impossible for some seniors to shower or bathe independently. As you contemplate bathroom design in New Jersey, consider walk-in tubs or zero-entry showers for seniors.
Some elderly people are unable to lift their legs and therefore cannot step into a conventional bathtub. A walk-in bathtub gives seniors safe access and also provides a seat for those who cannot stand for long periods. Seniors who use wheelchairs can be more easily shifted to the seat in a curbless shower, making things easier for the caregiver as well. You may want to have a curbless shower or walk-in bathtub installed by professionals. You can choose between a prefabricated unit and a new unit that has been created especially for use by seniors.
Tip 7: Widening the Space

Many homeowners make great strides in improving the accessibility of their bathroom, only to make a mistake by failing to make it truly accessible because of narrow entries and spaces. This particular remodeling tip is a bit more cost-heavy, but it can make a big difference inaccessibility of your bathroom.
Many seniors use mobility devices to help them navigate a home. Making the space wide enough for a wheelchair or walker will help make it more accessible. As you count your bathroom renovation cost in NJ, be sure to consider the cost of widening the doorway and the spaces inside the bathroom.
Tip 8: Wall-Mounted Sink

Most sinks double as storage in a bathroom, giving a cabinet underneath the sink to store stuff in. Yet if a senior is in a wheelchair, this can make using the sink difficult. Instead, consider a wall-mounted or pedestal sink that has space underneath for legs to fit. You can add storage elsewhere or use a hall closet to store some of your bathroom supplies.
Tip 9: Light up the Space

Lighting is an essential part of aging in place. Seniors often cannot see as well as younger adults, and they need plenty of lighting to avoid tripping hazards and other problems. Plan your remodel so that there are minimal shadows in the space. Consider adding motion-detecting lights so that the light automatically turns on when your senior loved one enters the bathroom
Many people want to stay in their own homes as they grow older, rather than move to an assisted living facility, but safety in the bathroom is a major concern. Other families find that they need to change up their bathroom space as they prepare to move an elderly loved one in with them. Fortunately, there are many accommodations that make bathrooms safer and more accessible for seniors. Contact a bathroom remodeling contractor today to discuss the accommodations needed for you or your loved one. JMC also offers virtual consultations, to keep you and your family safe! Let us help you avoid common bathroom remodeling pitfalls and move forward with an attractive and accessible bathroom design.