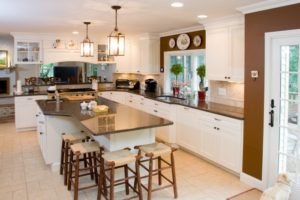 So, you've decided you're ready to remodel your home. You're about to embark on an exciting journey. One of the first big decisions you'll need to make is who to hire to complete the project. A design build remodeling firm provides both design and construction services under one roof, managing the process for you from start to finish.
JMC Remodeling has been operating as a design build firm for nearly 40 years and we've perfected our process over the years. We believe there are some important advantages to using a design build firm.
Accountability. From the very beginning, a design build firm works with you to create a reasonable budget for a custom project design that will also be built by them. They manage every step, including the staff, vendors, subcontractors and suppliers that are involved. This results in tighter control over budgets, scheduling and craftsmanship.
Thoughtful Design. Since a design build firm understands and manages construction they are able to foresee potential issues before they occur. This is important as it ensures that your design can be done within budget. It also safeguards that your design is structurally sound.
Easy Process. A design build remodeler has a time-tested process that enables them to keep your project on time and on budget. It should include plenty of opportunity for you to meet with designers and project managers during the process so that you know where things stand at any time.
Knowledge. A design build firm's expertise is in both design and construction so you can count on functional and beautiful designs that are built within existing building codes with outstanding craftsmanship.
Single Point of Contact. If you have questions, you only have to call one place to get your answers.
If you'd like to learn more about JMC Remodeling or our design build process please contact us. We'd love to hear from you!