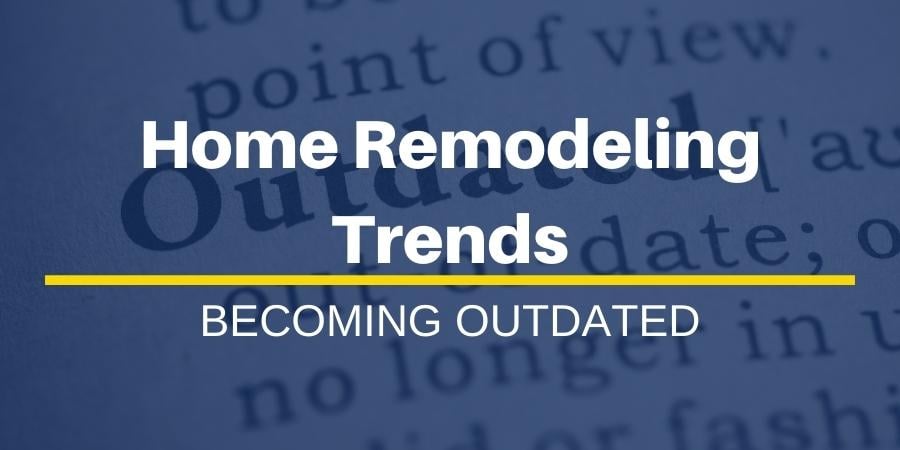 When you invest in a home remodel, it's important to be in the know about what trends are becoming outdated and how to avoid them. Your New Jersey remodeler will have plenty of the newest ideas in mind when helping to design your home, but it's ideal to be aware of what trends are on their way out and what's taking their place.
What Home Trends are Out in 2022?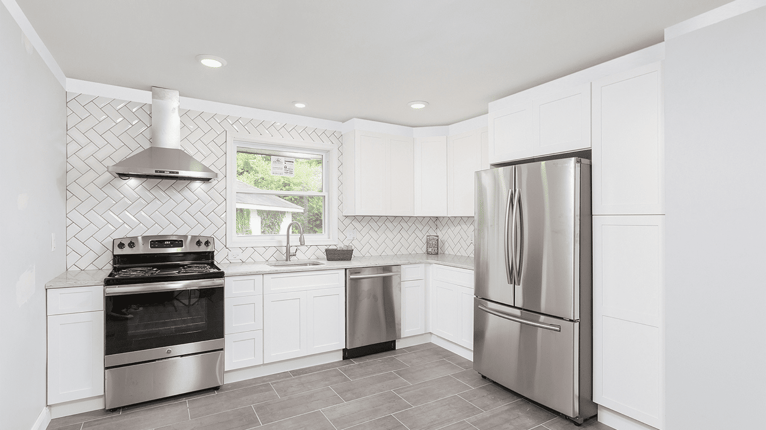 1. Monochromatic Color Palettes
All white and all gray kitchens and bathrooms are being replaced with mixing colors and materials in a way that still feels polished but more personal and inviting. Using trending colors, like greens and blues, along with white or gray is a fresh way to break up the all-over use of these overused neutral tones. In the kitchen, use white on the upper cabinets and earthy green on the lowers. Or go a bit bolder with a matte black island and off-white perimeter cabinets. In the living room, use a cool slate blue in the built-ins and a warm gray on the walls. In the bathroom, break up the all-white tile with a splash of color on the vanity, rugs, and mirror. The goal is to break up the color to create more interest.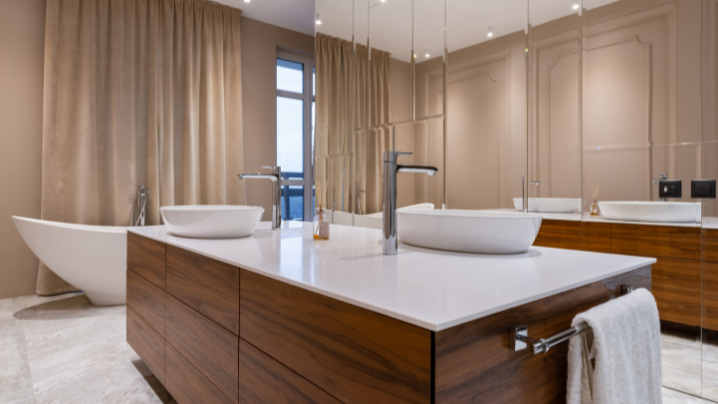 2. Glossy and Smooth Everything
Smooth, monochromatic, high-gloss surfaces across an entire space are being replaced with subtle texture and warmth. For example, a patterned linen wallpaper on an accent wall in the dining room or bedroom adds intrigue and personality in a way that doesn't draw too much attention but creates a cozy atmosphere. A more dramatic and sculptural way to add texture to a wall is with 3D decorative wall panels.
As for texture on the floor, parquet floors are seeing a comeback as one significant way to add texture with elegance and charm. You could also lean into bold patterns in a strategic application by using a pop of color or an animal print on the stair runner.
When choosing paint colors, use matte paint finishes instead of gloss for a warmer feeling. For lighting, replace the metal light fixture above the dining table with a large rattan fixture. Overall, designers are seeing a shift to bold choices in materials and colors in doses big and small.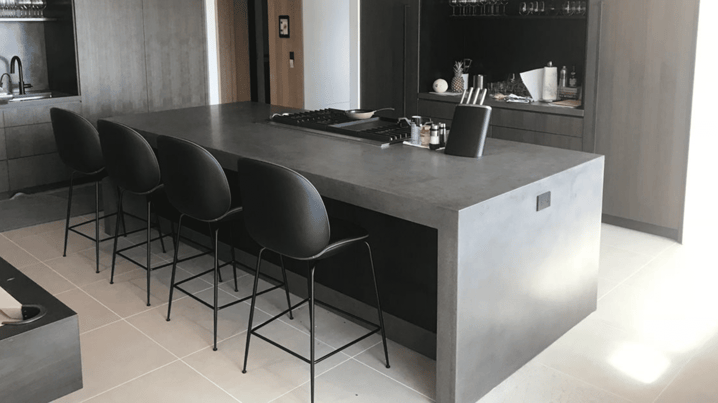 3. Waterfall Kitchen Islands
Falling in line with the two previous outdated trends, waterfall kitchen islands are too cold to fit into the warmer trends of 2022 and tend to be designed with mostly white or gray marble. A waterfall kitchen island fits very well into the stark minimalist style of the past decade. However, with minimalism and the monochromatic palettes that came with it becoming outdated, so is the waterfall-style island. The kitchen island is becoming a more inviting fixture in the kitchen, with materials like reclaimed wood and different tones of green and natural wood.
Across the whole home, styles are trending toward texture, color, and character. The kitchen island, as a major focal piece of the living space, sets the tone. Replacing a stark island with something that perhaps is repurposed, like a vintage buffet or a large antique table with a butcher block counter, is an excellent way to incorporate new trends and leave behind a dated kitchen.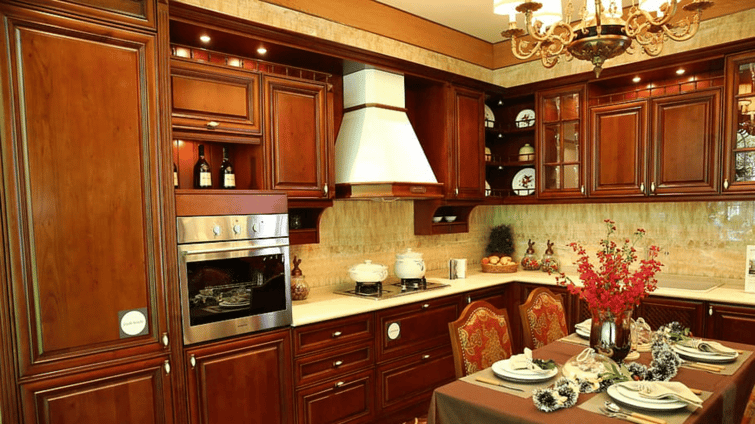 4. Dark Wood
Whether it's in the kitchen, the bathroom, or the study, dark wood tones have been on the way out for years. Its heavy appearance tends to darken any space it's in and overwhelms the eye. Lighter, more natural wood tones are the way to go in 2022. Teak, bamboo, and oak are all being used for their interesting grain patterns and subtle shifts in tone. These light golden hues are reflective of a lean toward warmer palettes and a shift to the growing coastal modern style.
Dark wood also has a very traditional feel, which has been an outdated home trend for several years. If you still favor darker colors in your kitchen, for example, experiment with using matte black or navy on a large hutch, or on the trim and molding. You could also use these darker tones on the bathroom vanity or in built-ins. A dark accent can be very polished and modern if used strategically and sparingly.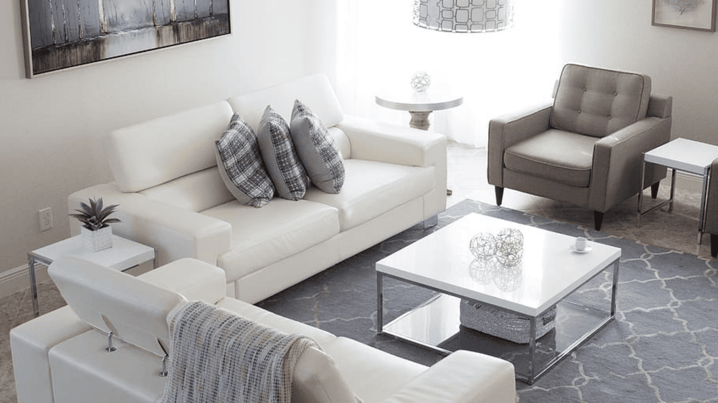 5. Big Box Store Pieces
Within the past couple of years, due to supply chain issues, homeowners have become accustomed to repurposing and reinventing vintage finds. Elements with personality are replacing mass-produced pieces in every room of the home. This goes for everything from lighting to vanities to flooring. Repurpose beams for a dramatic ceiling in the living room, an antique buffet as the master bathroom vanity, or even an old industrial cart as the kitchen island. Ask your New Jersey remodeler about other ways to work vintage and antique finds into your remodel.
Besides vintage finds, custom pieces are also on the rise, nudging composite wood and other mass-produced pieces out of the picture. Your local New Jersey remodeler may likely have a network of recommended craftspeople that can create stand-out one of a kind home accents. Custom gas lanterns outside your main entryway, unique stained glass for your powder room window, or hand-thrown ceramic sinks for your double vanity are all ways to incorporate an artisanal touch to your home remodel.
Update Your New Jersey Home
Working with a skilled and experienced design firm can bring you all the way from planning the updates to your home through to the finished product. Your time, budget, and trust are the most important aspects of a home remodel. JMC Home Improvement Specialists will help you select the features and materials to upgrade your home within your budget and beyond your expectations.