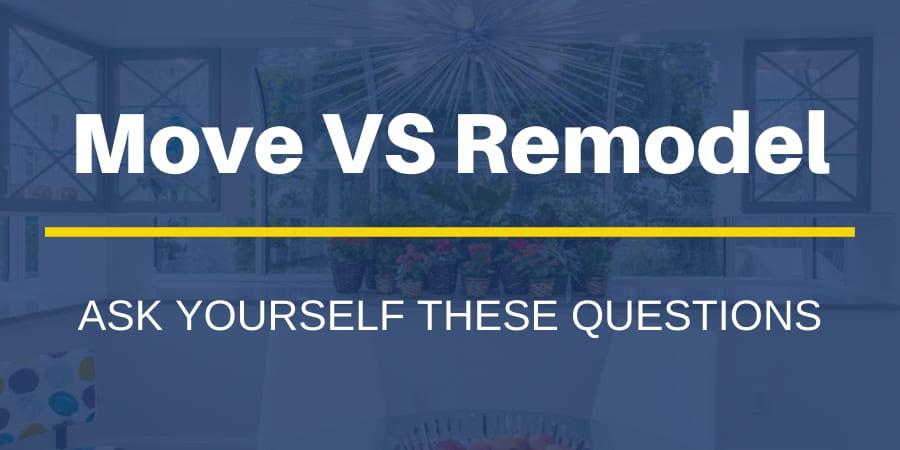 If you have been in your home for over a decade, chances are you have a list of items you'd like to change or update. Perhaps your family's needs have changed, the kitchen or bathrooms are outdated, or you simply need more space. When faced with a growing renovation list, most homeowners contemplate whether they should move or remodel. As a remodeling firm, we frequently speak with families who are in this exact predicament. We believe the following four questions are helpful in making the decision on whether to move or remodel.
Do you love your neighborhood?

Look at it holistically from the location, the amenities and social aspects, the school district, and your neighbors. It can be difficult to find a community and neighbors that you love and if you already have it, it's very hard to leave. For many families, this is the reason to stay and remodel.
How long could you stay in the home if you completed your list of renovations?
If your renovations can buy you ten or more years in a home that you love this a good reason to consider remodeling.
How will remodeling affect the value of your home in comparison to others in your neighborhood?
Will the proposed projects you are considering allow your home to remain within the average or high average home values in your neighborhood? It can be risky for resale to be the highest priced home in the neighborhood.
Are there local zoning issues that could prevent you from completing your project?
This can become an issue when you need to build an addition where zoning restrictions on height and proximity to property lines come into play. However don't lose hope, a creative design team can often offer alternate solutions that meet local zoning requirement.
Related Reading: The Cost of Building an In-law Suite Addition to Your New Jersey Home
Need help deciding what makes the best sense for your family? Did you know that JMC offers virtual consultations? When you're reading to remodel, contact us to discuss what you'd like to change about your home and we will help guide you in making the right decision.