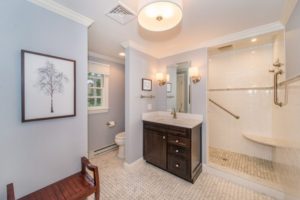 One of the most exciting parts of the remodeling process is when you get to make the selections for your project. This includes items such as flooring, cabinetry, counter tops, lighting fixtures, hardware, tile, faucets, doors, and windows. There are a lot of decisions to be made and sometimes homeowners can feel a little overwhelmed before they get started. The JMC design team makes the remodeling selection process easier by providing recommendations that suit your design preferences and budget.
To make things easier, we've put together some tips to help you prepare for your remodeling selections appointment.
Get inspired by browsing through home décor magazines, creating idea books on Houzz, or boards on Pinterest. Share these with your designer and she will be able to get an understanding of the types of design aesthetics you lean towards. This will enable her to pull samples of items you might like which will help kick off the decision making process.
Let your budget be your guide. Ask your designer to show you selections that fit within your project budget. It's easy to fall in love with a hardwood floor or fantastic appliance that doesn't work with your numbers. So shopping within your budget is an important parameter.
Understand the regular maintenance that may be required for the selections you make. This is particularly important with hardwood flooring, countertops, some tile, and decking materials. Let your designer know what level of maintenance you are comfortable with so she can guide you in the right direction.
Take samples home if possible and place them in the room where they will be installed. This will give you a real sense of how they will look in different lighting scenarios in your own home.
Give yourself a day or two before making your selections final. Once you have everything picked out; take at least 24 hours and let it marinate in your mind. When you are making this type of investment, it's important that you get what you want. If you have any second thoughts, now is the time to make adjustments, as changes once orders have been placed are very costly.