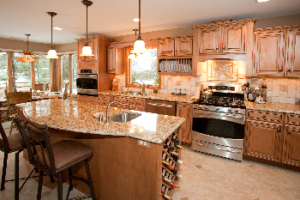 More people remodel their kitchen than any other room in their home. That's no big surprise since the kitchen is the heart of your home and is probably the most used room in your house. Of course that means if you're going to remodel, you want to get it right.
However, there's one important question you should ask yourself before you start drawing up the plans and tearing out the walls. It's a simple question—but it takes some time and thought to answer: What do you want from your kitchen when the remodeling is done?
Seems pretty obvious, huh? The problem is that it's so easy to get wrapped up in the specifics like countertops, cabinets, hardware, appliances, flooring, faucets and lights that you can lose sight of the big picture. Why did you want to remodel in the first place?
That usually comes down to how you use your kitchen. If your kitchen is going to be a place where the kids do homework and you gather for informal meals, you need to plan accordingly. You'll want to make sure the space is set up with space to handle the activities you have planned.
If you use your kitchen to entertain, you'll want to make sure that your design reflects that. Are you allowing enough space for people to congregate? Is there easy access to a second room so that it doesn't feel crowded? Can you take out a wall and create a "great room" concept?
Another thing to keep in mind is that—unless you plan to cater all your meals—your kitchen needs to be functional for one of its primary purposes: preparing meals. It doesn't matter how great your countertops look or how beautiful your fixtures are if you get frustrated when you try to get a meal on the table. You'll want to be sure your kitchen works the way a kitchen should.
Making sure your kitchen meets your needs is why it's a good idea to sit down with your builder or designer to talk these things through before you start drawing up the plans. It's also one reason why the design/build concept is such a good option. If the same people that design your kitchen also build it, you know you're going to get what you planned.
If you're looking for some specific ideas that will give you the kind of kitchen that will meet your needs, we invite you to download our free Creating The Ideal Kitchen guide. This five-page guide will help you learn how to design a kitchen to fit your personal style—and even links you to an online kitchen design tool.